PE HDPE PVC Plastic Pipe Profile Grinder Crushing Machine
View large picture
Description

Video

Business Terms

Equipment Service
Plastic PVC Pipe Crusher Machine is mainly used for breaking relatively long PVC special shaped material, such as plastic door & window, plastic pipe, sheet, etc. there is no need to cut. Once continuous feeding can be conducted. Internal design of Horizontal Plastic Crushing Machine is rather distinct.
It is a new kind of crushing machine used for crushing plastic profiled material with large hardness and tenacity. It is improved and extended on the basis of tradition crusher. Wind motor is arranged for transport of broken material, start-up device is arranged. The operation and maintenance & repair is rather simple. It is an ideal model for crushing all sorts of pipe material and profiled material.
1. PNPC Series Strong Crusher/plastic crusher/crushing machine/crusher machinery adopts imported high-quality tool steel, special cutting-tool. The installation of the cutting tool can be adjusted. The cutting tool can be sharpened again and again, Its use life is very long.
2. The moving cutting knife stand is a step designing to make cutting force resolve and increase the cutting force times.
3. The material of the moving cutting knife stang is T7A high-quality tool steel. Its hardness and softness is reasonable. It is not easily broken or wrong. It adopts high-strength steel screw (8.8 grade) to fix it.
4. Steel body and clamping blade prevent the machine from cracking.
5. Stepped blades increase shearing strength and crushing efficiency.
6. Sound separation layer in the feeding door lowers operations noise levels.
7. The main body is high-quality steel to avoid that the machine is used for a long time and affect its mechanical performance.
Application Areas:
This plastic crusher is specially designed for crushing all kinds of long PVC special shaped material, such as plastic door & window, plastic pipe, sheet, thick-wall resin, timber, aluminum foil in the shape of film, sheet, runner, tubular construction or hollow container.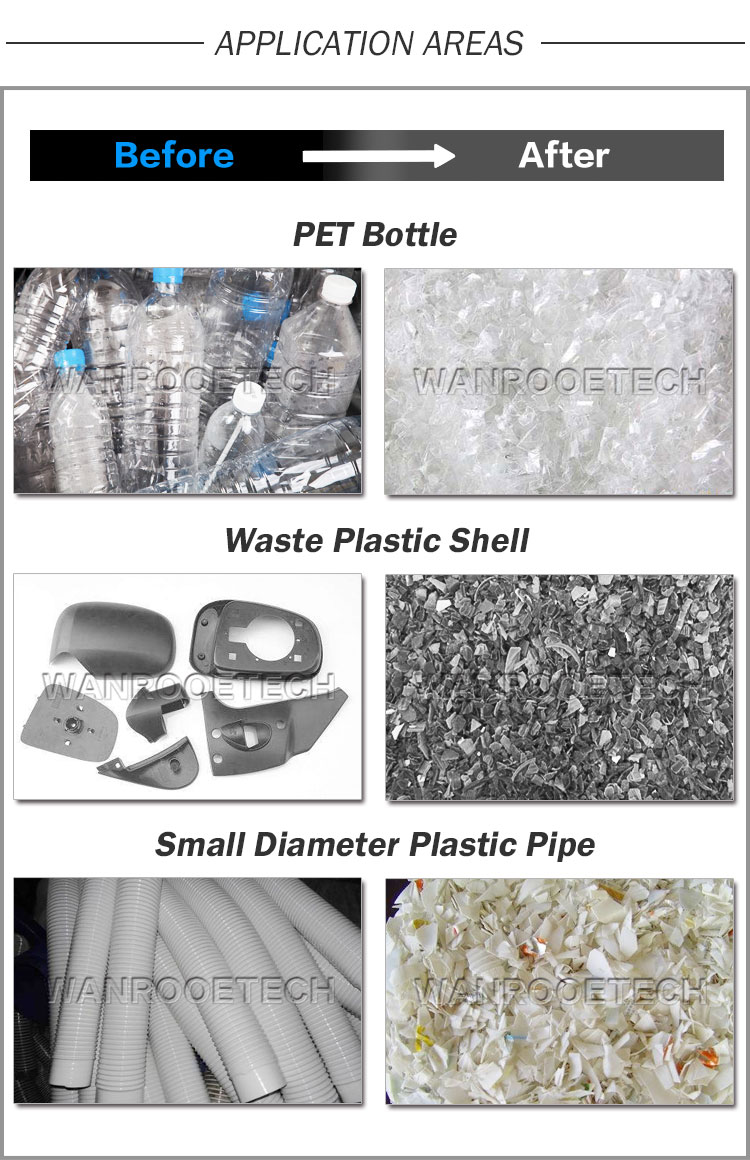 Parameters:
Model

PNPC160

PNPC200

PNPC210

PNPC300

PNPC320

PNPC380

PNPC400

PNPC630

Rotational knife diameter mm

160

200

210

300

320

380

400

630

Rotational knife quantity

8

3

3

3

3 pcs /2 groups

3 pcs /4 groups

5

9 pcs/2 groups

Rotational knife speed (r/min)

500

870

500

640

650

650

500

480

Fixed knife quantity

2

2

2

3

2

6 pcs /2 groups

2

4 pcs /2 groups

Screen plate aperture (mm)

φ 8,φ 10, φ 12,φ 14,etc, can be tailor made

Smash capacity (kg/h)

100-200

50-110

80-120

50-250

250-350

300-500

350-450

700-850

Power (kw)

5.5

4

4

18.5

22

27.5

15

44

Feeding mouth dim (mm)

350 × 110

240 × 350

250 × 230

360 × 500

400 × 600

450 × 800

375 × 320

820 × 610

Machine weight (kg)

450

300

320

800

1400

1800

1200

4200

Appearance size (mm)

1220X500 × 1200

1000 × 590 × 1090

800 × 600 × 1400

1550 × 1300 × 1850

1613 × 1150 × 1910

1800 × 1460 × 1880

2500 × 1200 × 2000

2754 × 2000 × 2850
Product Type: China's High Quality Manufacturer for PE HDPE PVC Plastic Pipe Profile Grinder Crushing Machine
Place of origin:China
Price Terms:EXW,FOB, CIF
Payment Terms:L/C,or T/T
Package:Wood Box, Wood pallet, tailor-made
Delivery Time:15-30Working days
Brand Name:WANROOETECH
Delivery Times
30-90 working days since receiving advance payment. If you cannot wait for this suggested delivery time, please contact us freely, we will make any arrangements we can to meet your requirements.
Packing
Wood Pallet, fumigation-free wooden cases if necessary. All the key parts of the equipment will be painted with anti-rust oil before shipment and packing.
Technical documents
WANROOETECH will offer you all necessary documents, e.g. general layout plan, electrical diagram and user manual after the contract is executed.
Arrangement for inspection, installation and testing work
After informed machines ready for inspection, customer can send engineers to WANROOETECH; Customer also can consign WANROOETECH to finish inspection work.
When the machines are delivered to customer's factory, please arrange preparation work before engineers arrive if require.
WANROOETECH will send technicians to the factory after preparation work is completed;
Technicians will be responsible for guide on-site installation and testing machines involved.
Meanwhile technicians will give free training lessons to labors in customer's factory.
The customer just needs to bear expenses generated for this work, e.g. airplane tickets (round-way), residency, meals and allowance of USD50 per day for each technician.
Quantity and quality guarantee
A: Quantity/Quality Discrepancy to destination port during transportation:
In case of quality/quantity discrepancy to destination port in transportation, customer should file claim within 30 days after the arrival of the goods at port of destination.
B: Guarantee period and after-sales services:
12 month since installation finish and machine normal working. During this guarantee period, WANROOETECH will provide spare parts without any charge in case of quality discrepancy caused by us. If the malfunctions are caused by your incorrect operations, WANROOETECH will provide spare parts at cost.
C: Long-term service:
WANROOETECH will charge the buyer cost of spare parts beyond guarantee time and provide long-term technical guide.