Scrap Copper Cable Wire Shredder
View large picture
Description

Video

Business Terms

Equipment Service
Description:
Scrap Copper Cable Wire Shredder
are machines that reduce the cables they shred into any particle size. The shredders we sell (Single Shaft Shredder, Two Shaft Shredder or Granulator) are capable of processing a wide variety of products like aluminium, paper, plastics and wood. Often the end product of this shredding process, the copper cable waste, is sellable.
WANROOETECH provides a wide range of high-quality shredders (Single Shaft Shredder, Two Shaft Shredder), granulators and recycling plants. Durable and reliable with the higher China quality.
Industrial Wire and Cable Shredder Blade:

Components: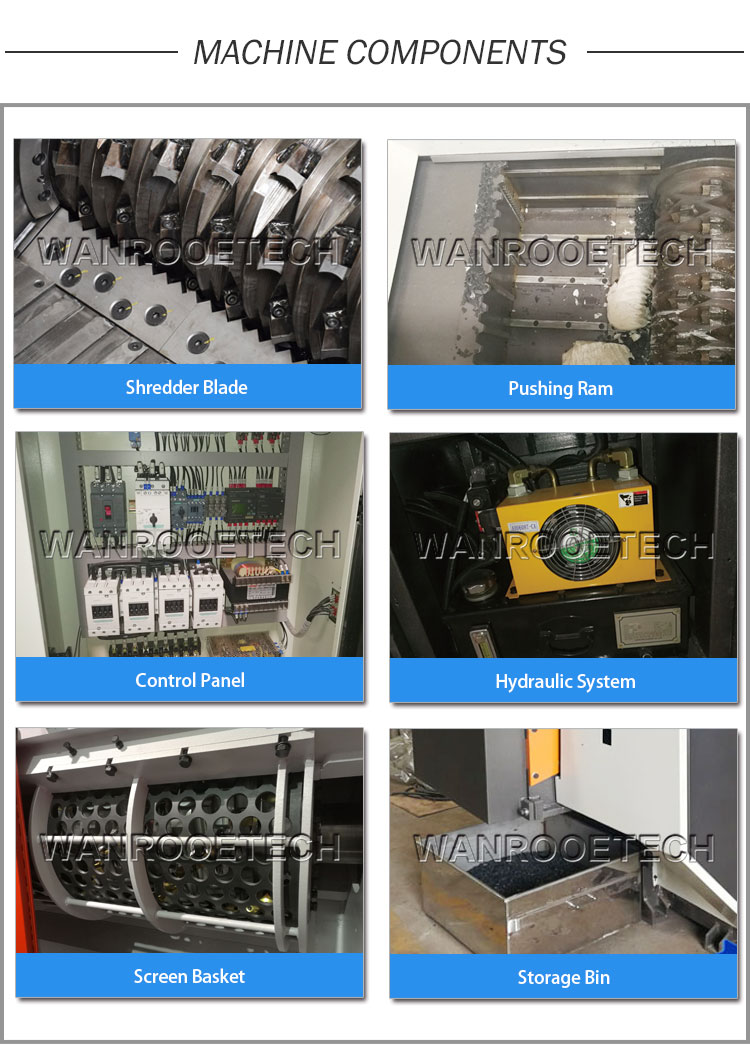 Features:
1)Precisely processed combined frame made of extra-thick plates; Lange-angle, hexagon prism of power slewing axis; Big hopper with big caliber for feeding big material
2)PLC control system with automatic overload protection and auto reverse switch
3)Unique hydraulic pushing system accelerates the shredding speed, for light material particularly
4)Each dynamic blades has four cutting edges which enable reutilization after being abraded, by rotating 90 degree
5)Each fixed blades has two cutting edges which enable reutilization after being abraded, by rotating 180 degree
6)Quiet operation at low speed
7)Screen perforation is adjustable according to customers' requirement
8)The shredders can be adjusted according to customer specific requirements for throughput volume, material to be processed, etc.
Application Areas:
The single shaft plastic shredder machine is mainly used in all kinds of hollow or solid plastic material. The shredder machine is suitable to PE, PP, PET, ABS, PVC and engineering plastics.
Commonly Recycled Plastics Include:
ABS (Acrylonitrile butadiene styrene)、PVC (Polyvinyl chloride)、HDPE (High-density polyethylene)、LDPE (Low-density polyethylene)、PET (Polyethylene terephthalate)、
PP (Polypropylene)、Epoxy、Purgings、Film、Big Bags、Bottles、Containers、Glass Fiber、Pipes、Ropes etc.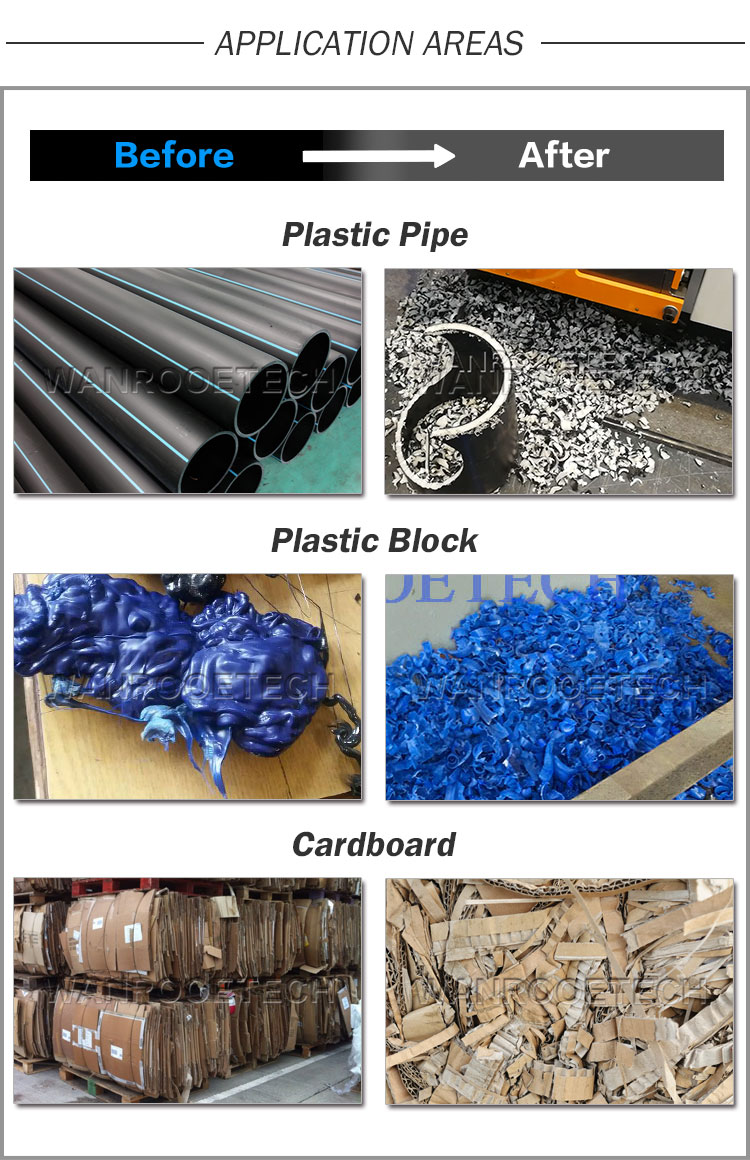 Product Type: China's High Quality Manufacturer for Scrap Copper Cable Wire Shredder
Used For Material:waste wire,scarp cable,copper,waste communication cables, car cables, computer cables, telephone cables, home appliances wires and such these no oil pollution cables. etc
Application Field:metal recycling
Place of origin:China
Price Terms:EXW,FOB, CIF
Payment Terms:L/C,or T/T
Package:Wood Box, Wood pallet, tailor-made
Delivery Time:15-30Working days
Brand Name:WANROOETECH
Delivery Times
30-90 working days since receiving advance payment. If you cannot wait for this suggested delivery time, please contact us freely, we will make any arrangements we can to meet your requirements.
Packing
Wood Pallet, fumigation-free wooden cases if necessary. All the key parts of the equipment will be painted with anti-rust oil before shipment and packing.
Technical documents
WANROOETECH will offer you all necessary documents, e.g. general layout plan, electrical diagram and user manual after the contract is executed.
Arrangement for inspection, installation and testing work
After informed machines ready for inspection, customer can send engineers to WANROOETECH; Customer also can consign WANROOETECH to finish inspection work.
When the machines are delivered to customer's factory, please arrange preparation work before engineers arrive if require.
WANROOETECH will send technicians to the factory after preparation work is completed;
Technicians will be responsible for guide on-site installation and testing machines involved.
Meanwhile technicians will give free training lessons to labors in customer's factory.
The customer just needs to bear expenses generated for this work, e.g. airplane tickets (round-way), residency, meals and allowance of USD50 per day for each technician.
Quantity and quality guarantee
A: Quantity/Quality Discrepancy to destination port during transportation:
In case of quality/quantity discrepancy to destination port in transportation, customer should file claim within 30 days after the arrival of the goods at port of destination.
B: Guarantee period and after-sales services:
12 month since installation finish and machine normal working. During this guarantee period, WANROOETECH will provide spare parts without any charge in case of quality discrepancy caused by us. If the malfunctions are caused by your incorrect operations, WANROOETECH will provide spare parts at cost.
C: Long-term service:
WANROOETECH will charge the buyer cost of spare parts beyond guarantee time and provide long-term technical guide.